Fine Lines
Words & Ideas that Mark our Times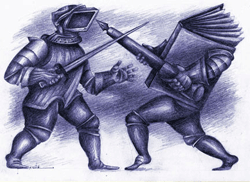 * Fine Lines is a digital book of 214 pages in pdf form for people who work with words and ideas. It contains the best quotations and references from the 1980s and 1990s.
* It is a tool for speech-writers, journalists, students, writers and any­one interested in tracking Australian history through the things people say.
Advance Praise for Fine Lines
"Peter Botsman's cogently culled collection of quotations is an invaluable guide to Australian politics for anyone--anywhere in the world."
 Sidney Blumenthal
Articles
Extract from Fine Lines - Accord to Alfred E. Neuman - 1 December 2006
Extract from Fine Lines - Bananas to Bawrunga - 1 December 2006
Extract from Fine Lines - Cabinet to Catholicism - 1 December 2006
Extract from Fine Lines - Decisions to Deaths in Custody - 1 December 2006
Extract from Fine Lines - Economist to Education - 1 December 2006
more articles