When the World Turns Upside Down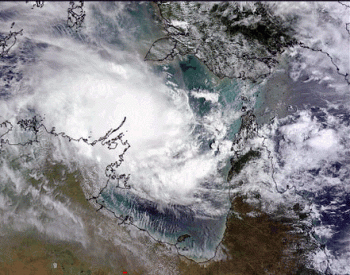 A Glimpse of the Impact of Cyclones Lam and Nathan on Remote Aboriginal Homelands
It was weeks after Cylones Lam and Nathan had hit North East Arnhem Land, the reports were that things were returning to normal. But life is different on remote Aboriginal homelands, far from being "a life style choice", living on homelands is an exercise in self reliance. When a cyclone hits the withdrawal of Commonwealth, State and territory support for homelands is really evident. It means roads, buildings and basic infrastructure can be out of action for months and years into the future.
This is the story of three Sydney women who came to visit the renowned north-east Arnhem land weaver and community leader Batumbil Burrarawanga and encountered the devastation that a cyclone can cause.  It is a portrait of the fragility of a remote Aboriginal homeland.
For comment: Cate Peterson 0419-609-991, Sarah Ball, 0419-609-991, Anna Ingham 0404-483-720
To read the story download the pdf file below. This paper is available free to workingpapers subscribers for 24 hours from 5 May 2015.
To donate to the campaign to support Batumbil Burarrawanga copy this address into your web browser (https://www.isx.org.au/civicrm/contribute/transact?reset=1&id=5) or double click  ISX website  or contact Peter Botsman 0244651665.
Mata Mata (https://www.isx.org.au/projects/mata-mata-homelands) and Gikal (https://www.isx.org.au/projects/djalu-gurruwiwi) are two homelands that are part of the ISX's long term campaign to support people living on remote Aboriginal homelands.