Warren Mundine's Mission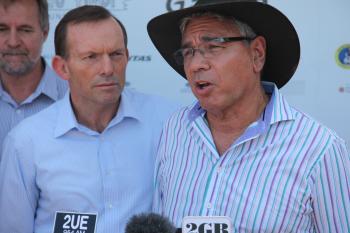 Warren Mundine has risen above the ruck of politics to lay out some ground rules for his tenure as Chairman of the Prime Minister's Indigenous Taskforce. One thing is crystal clear, against those who want to criticise him before he even begins, Warren Mundine will be his own man and he will call the shots as he sees them. He will also not allow the Abbott government to walk away from the many practical challenges facing Indigenous communities.
"There are no sacred cows. I am on a mission. I will not be easily pushed away from achieving my objectives." - Warren Mundine, Oct 10, 2013
There is a storm blowing around Aboriginal Australia. In the eye of the storm is Australia's Aboriginal people. They look up and see a frenzy of programs, dollar bills and a multitude of helpers all caught up in the tempest. Buildings, people, money twist up into the sky. But in the eye of the storm nothing changes. As hard as the storm blows, nothing occurs for the betterment of Aboriginal people.
That is how Warren Mundine, Chairman of the Prime Ministers Indigenous Advisory Council describes Indigenous affairs.
"It is my mission to harness the energy of the storm and to bring up about greater good for my people. There are four basic things that I want to achieve:
"I want every Aboriginal child to be in school
"I want Aboriginal languages and culture to be enshrined in all our national institutions including school and our civil life
"I want to see every capable Aboriginal adult working in a meaningful job
 I want to get the jobs. We need economic and commercial activity on Indigenous lands."
The interview was conducted on Tuesday 8 October 2013.
You can download this paper by double clicking ADD TO CART Below. This interview was available  free for 12 hrs from 3pm EST, 10 October 2013. To take advantage of free downloads you must subscribe to working papers.