Warren Mundine: Council for Bold Reforms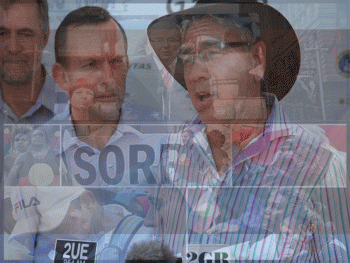 Warren Mundine, Chair of the Prime Minister's Indigenous Advisory Council, predicts bold reforms in the weeks and months ahead.
Select extracts
 "I got in a taxi to take me to my secretariat and I said 'take me to Woden' and as the taxi was taking off I suddenly realised … I am not going to Woden anymore… the taxi was to take me directly to the department of Prime Minister and Cabinet... we're in the front and centre of national politics. It gives us an enormous task and opportunity. You're right, people are looking to us to look at the right things… Some people are looking at us and hoping for a failure. But most people, most Indigenous people out there, most every day Australians, want us to succeed."
 "The Prime Minister sat at our meeting the other day. He was only supposed to be there for ten minutes. He stayed for two hours and took part in the conversations and debates that were happening and he was very much front and centre to that and we had the Parliamentary Secretary, the Minister and we also had the Member for Hasluck, Dr. Ken Wyatt there as well as the Head of the Prime Minister and Cabinet and his team."
 "Look it is the Prime Minister's Advisory Council. Tony Abbott is the Prime Minister. He is the person who has forged the way we move forward. But it is also the Prime Minister of Australia's Advisory Council and people need to focus on that rather than being caught up in the politics of it. We need to work with all Australians. We need to work with all politicians. We need to work with State and Territory governments and oppositions. We need to work with the Federal government and opposition as well."
"I do see this Council as a reforming council and the Prime Minister sees it very much as a reforming council. Yes we will be reviewing but we will also be reforming. It's about bold reforms."
"I am a very simple man. I just like to do simple things. If you look at an area like health...then you attack an area like smoking to change the life expectancy and health of our people. So it's just simple things I like to drive forward on. "
Warren Mundine
The paper below is available free to workingpapers subscribers for two hours from its release. The paper contains a brief analysis, a transcript of an interview with Warren Mundine and a link to the unedited interview as a podcast.
This paper is reviewed exclusively on the Sandy Dann Morning Show, Radio Goolarri, 99.7 FM Broome and is broadcast across all of the PAKAM (Pilbara and Kimberley Aboriginal Media) Bindanyoon Gardayoon - from the Desert to the Sea network radio stations - and through remote and regional Australia.
You can listen to Sandy online by following the links at http://www.goolarri.com/radio