"There is no one to raise the voices anymore": An Interview with Linda Burney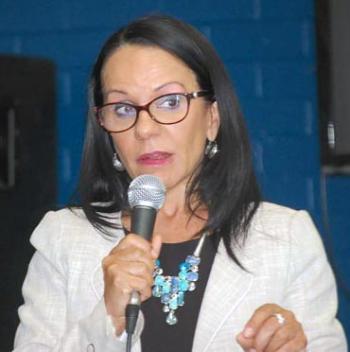 "The Labor party is changing. It had no choice but to change."
As Mike Baird and Luke Foley were having their first leaders debate Linda Burney visited Nowra and spoke to a large representative audience at the Nowra Youth Centre, 27 February, 2015.
The unedited interview with Linda Burney is available free to working papers subscribers for 48 hours from 8pm 28 February 2015. Linda made many points including:
- "There is a change in the air."
- "People are saying we don't have to have a government for two terms if we don't like what they are doing. People have found their voice in South Australia, Victoria, Queensland and I hope also, in four weeks, in NSW"
Listen to the interview here: https://soundcloud.com/kangaroova/a-new-approach-an-interview-with-linda...
---
The following is an extract from Linda Burney's public profile
Linda Jean Burney (born 25 April 1957[1]), an Australian politician, is a member of the New South Wales Legislative Assembly representing Canterbury for the Australian Labor Party since 2003. Upon her election, she became the first Aboriginal person to serve in the New South Wales Parliament.[2]
Burney was interim Labor leader after John Robertson's resignation on 23 December 2014. The Labor caucus met on 5 January 2015 to elect a new leader to succeed Robertson as Leader of the Opposition and elected Luke Foley. Burney remained as Deputy Leader of the Parliamentary Labor Party in NSW.[3] Burney is also the Shadow Minister for Planning Infrastructure and Heritage, Shadow Minister for Sport and Recreation, Shadow Minister for the Hunter, and Shadow Minister for the Central Coast. In the Keneally ministry, she was the Minister for the State Plan and Minister for Community Services. During 2008 and 2009, Burney was National President of the Australian Labor Party.[4][5]
Burney is of Wiradjuri descent and grew up in Whitton, a small town in south west NSW near Leeton.
In her inaugural speech to Parliament she said:
Burney attended the local primary school in Whitton. She did her first four years of secondary school at Leeton High School and final two at Penrith High School. She was the first Aboriginal graduate from the then Mitchell College of Advanced Education where she obtained a Diploma of Teaching.
She began her career teaching at Lethbridge Park public school in western Sydney in 1979. She has been involved in the New South Wales Aboriginal Education Consultative Group since the mid-1980s and has participated in the development and implementation of the first Aboriginal education policy in Australia.[7]
She has held senior positions in the non-government sector, serving on a number of boards including SBS, the NSW Anti-Discrimination Board and the NSW Board of Studies. Burney was an executive member of theNational Council for Aboriginal Reconciliation, President of the NSW Aboriginal Education Consultative Group and is a former Director-General of the NSW Department of Aboriginal Affairs,[8] and in 2006 she was elected National Vice President of the Australian Labor Party.
When Burney was elected as the Member for Canterbury in 2003, she became the first Aboriginal person to serve in the NSW Parliament.[2] In her inaugural speech to the Legislative Assembly she said, referring to theConstitution Alteration (Aboriginals) Act, 1967:
She was appointed Parliamentary Secretary for Education and Training in 2005. Following the 2007 election Burney became Minister for Fair Trading, Minister for Youth, and Minister for Volunteering. In September 2008 she was promoted to Minister for Community Services and in December 2009 she was appointed Minister for the State Plan. She lost her portfolios following the change of government at the 2011 state election.
Burney was appointed to the Community Services portfolio in December 2008 just prior to the handing down of the report of the Special Commission of Inquiry into Child Protection Services by retired Supreme CourtJustice James Wood.[9] She was the lead Minister in a whole of government reform plan, "Keep Them Safe", that commenced implementing the recommendations of the inquiry.[10]
Following the ALP's landslide defeat at the 2011 state election, Burney was elected as Deputy Leader of the Labor Party after former Deputy Premier Carmel Tebbutt chose not stand for the position. She also became the Shadow Minister for Planning, Infrastructure and Heritage, Shadow Minister for the Central Coast and the Hunter and Shadow Minister for Sport and Recreation.
As Minister, Burney was the inaugural patron of the NSW Volunteer of the Year Award, a major NSW Government supported initiative.[11] In 2006 she gave the seventh Vincent Lingiari Memorial Lecture,[2] and in 2008 gave the sixth Henry Parkes Oration.[12]
Burney is an ambassador of the Australian Indigenous Education Foundation.
As part of the 2012 Sydney Festival Burney performed as herself delivering her inaugural speech to the NSW Parliament in a theatrical production called I am Eora.[13]
On 23 December 2014, Burney became the interim leader of the opposition after the resignation of John Roberson.[3]
---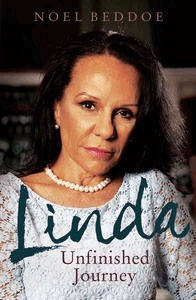 'What has happened to her would have destroyed many people. She hasn't survived, she's triumphed.' — Ross Fitzgerald
In a small Riverina township in the 1950s, an unmarried white woman entered hospital to give birth. Her baby was Aboriginal; the father's identity was unknown. The young mother checked herself out as soon as she could, leaving her newborn daughter behind.
For Linda Burney, life began tough in the tiny NSW township of Whitton. Her birth had been a scandal and caused her to be mocked and reviled by some — yet she was also loved by the elderly relatives who took her in and quickly won friends and admiration.
From these humble beginnings in country NSW, Linda grew to become a successful teacher, then a leader in a vital community organization, an inspiring political leader, Director General of a state department, and was an outstandingly successful minister in NSW government while her party crumbled around her.
But while her professional life flourished, her personal world imploded, a victim of prolonged domestic violence, left unsupported to bring-up two children. Finally, the tragic illness and death of the man she has called 'the love of my life' and the debilitating illness of a child have not diminished her capacity for friendship, loyalty, and generosity.
This is the story of a woman who has overcome extraordinary adversity to become a great leader in the Australian community, described by the author as 'the most remarkable woman I've ever met'.