Sticky Money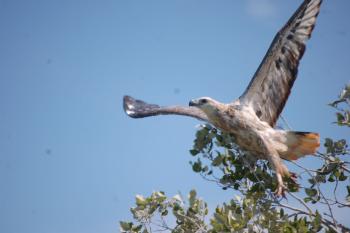 From "Co-Mingling" to "Sticky Money": Les Hems describes how the Broome Community Impact Investment Model is starting to fly...
It has been just on twelve months since the original Co-Mingling interview with Les Hems which documented the beginning steps in formulating a strategy for Broome organisations to work together collaboratively. In that time some great strides have been made.  Organisations are working very well together. The long term thinking initiated six years ago by the Kimberley Institute in collaboration with the significant Broome Aboriginal organisations is starting to pay great dividends for the community and for organisations. This new thinking builds on the natural innovation of Broome from Paddy Roe to the high quality and independent Aboriginal leaders and organisations that have evolved and are moving forward even in tough times.
To listen to the interview you must click on the following secure link: Sticky Money.
Below is a guide to the 40 minute interview. You can fast forward to key points in the interview by following the guide which indicates which minute in the interview a subject is discussed.
To listen you must  follow this Sticky Money link to the Soundcloud platform. Just make sure you have speakers on your computer or headphones for your computer or phone. 
Subject
Choosing the way you want to be funded - 1.00
Collaborative Work - 2.51
Family Centred Initiatives - 3.48
Social Enterprise - 4.58
Capacity Building - 5.30
Getting organisations to think the way investors think - 5.45
Social Impact Bonds - 5.60
There is a real mind shift towards outcomes - 7.08
Dependency on government funds has high risks - 8.36
The platform of government funding is burning - 9.27
Organisations have to adapt - 9.44
Importance of the Broome model - 10.17
Setting targets - 12.40
Collaborate on funding - 13.49
Priorities - 14.41
Native Trees and Fruits - 15.00
Working Together - 15.30
Commercial, Social and Environmental Opportunities - 16.06
Mamabulanjan - Reviving Homelands - 17.57
10 Year plans - 18.07
The importance of R&D Investment for Innovation and Development - 19.40
Homelessness and Affordable Housing - 21.04
Housing as an anchor for jobs, economic development - 22.37
What is the collaborative solution to homelessness in Broome? Prevention. - 23.45
The importance of local Indigenous tradesmen - Nirrumbuk - NUDJ - 26.35
Economic multiplier - 27.20
NUDJ - Investing in Aboriginal plumbing leaders - 28.20
Sticky Money - Keeping Prosperity and Innovation within the community - 29.17
Literacy and Numeracy another key priority for Broome - 32.11
Waardi - www.waardi.com.au - 32.55
One Year outcomes - 33.15
Why have standards fallen? - 38.04
Understanding true benefits not just costs - 38.22
Attracting invesment now - 39.09
Shell - Prelude and their role in Broome - 41.31
Fly in, Fly Out - 42.00
Interview ends.
 Background papers are also included below.
Co-Mingling - the original interview with Les Hems.  
Broome submission to the Senate Inquiry Making Good from Bad which documents some of the history of the Broome Community Impact Investment Strategy
EY's 2014 Sticky Money Report