Reading the Murdoch Press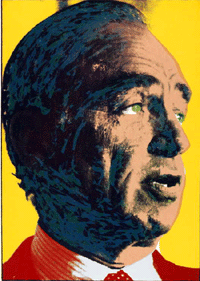 word historical and contemporary analysis focusing on The Australian newspaper. Amongst other things it pulls together much of the writing on Murdoch over the years and comes up with new theories about what drives the man. It also surveys 510 articles on terrorism published in The Australian over the past few months, as well as 182 editorials and over 500 individual articles contributed by Paul Kelly, Greg Sheridan, Janet Albrechtson, Matt Price, Christopher Pearson and others.
"I GREW UP IN A HIGHLY CENTRALISED WORLD where news and information were tightly controlled by a few editors, who deemed to tell us what we could and should know. My two young daughters, on the other hand, will be digital natives. They'll never know a world without ubiquitous broadband internet access", so Rupert Murdoch told the newspaper editors of America in 2005.  For Citizen Murdoch a diversity of news sources equates to greater democracy and choice, and to be competitive, media companies must own many forms of media. Murdoch went on to say   "...newspapers as a medium for centuries enjoyed a virtual information monopoly – roughly from the birth of the printing press to the rise of radio. ... But those days are gone. The trends are against us.." (Murdoch, 2005)
Welcome to the subterfuge of Australia's "paper prince" (Munster, 1985), whose company, News Ltd monopolises newspapers in every Australian capital city, regional and suburban centre; and whose world empire, News corporation, continually extends its tendrils across all forms of media in the US, Asia and Europe. There has never been a media baron like Rupert Murdoch. It is a forlorn hope that he will ever persuade thinking people that democracy and media monopolies are compatible, but does he have to? His empire has outgrown the regulatory limits of the nation state. News corporation can shift news and information across borders via television, film, publishing, newspapers and the internet. It can manipulate the news of a fixed historical event like an election or a war and it has the capacity to build long term, slow burning views of the world that will influence new generations to come.
Something is changing about the way news and information works but it is not becoming more democratic; rather, it is becoming less accountable and more opinionated. Regardless of whether they achieved it or not, impartiality was the objective of news editors in the days when a radio news bulletin stopped a nation on the hour, or likewise, a morning or evening headline in a newspaper dominated our consciousness of what was happening in the world. Seemingly unimpeachable sources gave authority to the world of the news. Now Murdoch and his company spin news and information at will.
Authoritative opinion is at the core of the Murdoch empire. From blogs to by-lines - it is an infective process. The name of the game is to create ideas-based news that has an irresistible force. Murdoch says: "I think what drives me are ideas what you can do with ideas" (Shawcross, p. 550). Nothing wrong with ideas, but when does the process of ideas-creation become ideological? The line between news and information and ideas is now blurred, in the Murdoch press news, opinion and editorial are inseparable and often indistinguishable. We should not mythologise an earlier era of media objectivity, but the craft of distilling news for everyman in Western democracies did invariably involve a contest of headlines, presentation and delivery of news from multiple companies. The danger of a monopoly ideas-based news service is that there is no competition, no contest of ideas, nor any real basis of objectivity against which to assess dominating opinions and editorials. In a Murdoch press campaign coded messages appear day after day in editorials. Editorials create news events, make things happen, and attempt to change reality.
This article focuses on a small outpost of the Murdoch empire, the Murdoch press in Australia, specifically The Australian newspaper. For now, Australia's cross-media laws allow Murdoch's News Inc. to only monopolise newspapers. The Australian, with the lowest circulation of all of the Murdoch newspapers in Australia, is nonetheless the only national newspaper and the standard-bearer of Murdoch ideology.
The Australian is not the newspaper for everyman by any means. It's audience is an influential group of politicians, opinion makers, policy makers and professional news-watchers, an opinion elite, numbering under 100,000 on most weekdays. The Australian editorial dialogue is the most noticeably influenced by the larger Murdoch world view. As such, The Australian's readers arguably start their morning prayer from an arbitrary base line reality far removed from the citizenry. What is this editorial dialogue? Is Rupert Murdoch himself dictating the editorial line every day? He would probably like to. But all media organisations and newspapers are populated by noble professionals, who have to survive. Many find ways of subverting any overt editorial control and still maintain their independence. They skilfully negotiate the worst orders from above to maintain their integrity. Others, like public servants who remake themselves in the image of an incoming government, become filters for what they perceive is the bosses' line. Editors of course stoutly defend their independence. The standard response is "I have not spoken to Rupert Murdoch for several months..." However, senior journalists and editors know full well what Uncle Rupert's views are. Review editors know there are certain books that must be reviewed. Opinion editors know there are certain opinions that must be prioritised. News reporters know that some issues are of more interest than others. Feature writers know when and where to turn a story. Editors attend annual retreats to pick up a line or angle. They attend seminars, receive communications from the anointed Murdoch public policy think tanks and intellectuals. Rank and file writers quickly come to understand the atmosphere of what is acceptable and there are, of course, some rules that cannot be bucked; one absolute rule is to never undermine the financial interests of News Inc. To understand all this it is first necessary to understand what drives Rupert Murdoch.