A New National Narrative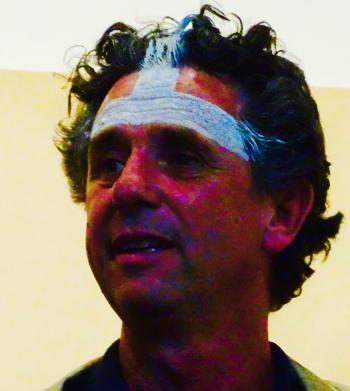 Australia needs a new narrative that binds all who live here.
"With substantive constitutional change and structural reform, we believe this ancient sovereignty can shine through as a fuller expression of Australia's nationhood." Uluru Statement of the Heart
At present I fear the Australian nation is headed fo"r an oblivion of political mediocrity. Well meaning Australians are confused by the many different directions of "reconciliation" and the many varied stances of  Federal, State  and local government. Most people are not aware of the diverse Aboriginal nations of Australia. There is ignorance of  the complexity of Aboriginal life. There is also  the destructive, ongoing conservative commentary which insists that Aboriginality is invariably "illegitimate" or wrapped up in some form of welfarist fraud.2
Aboriginal and non-Aboriginal champions of Aboriginal causes do battle with the right wing ideologues and the result is a short circuit of sensible, interesting, inclusive discussion. Debates are blood curdling, bitter and divided.
We need a new narrative. Non-Aboriginal Australia needs to understand its profound responsbilities to the first nations communities to get things finally on a constructive pathway. Only then will a new stature and power come from including the Aboriginal story as part of our national foundation.
What could such a narrative be? How could it cut through the complacent mainstream political discourse that puts Aboriginal issues into the too hard basket?
Sorry was meant to be a beginning not an end.  What unites us and makes us want to reconcile? There is something that Aboriginal Australians have that is worth more to non-Aboriginal people than all the iron ore in the Pilbara. The Uluru Statement of the Heart expresses it, as above, a deep spirituality that underpins Aboriginal sovereignty of lands and seas. This spirit is 50,000 years old.  If non-Aboriginal Australians open their hearts and minds, they too can  feel it and share its power.
Every Australian new or old needs to belong. Patrick White and every major writer has discussed this feeling of being a stranger on the land. Aboriginal Australians, generous to a fault, against all odds and probability, want to give all Australians a renewed capacity of belonging.  Aboriginal Australia has the capacity to allow non-Aboriginal Australia "to belong". But how can this be done when according to the founding document of our nation, Aboriginal belief systems and their timeless knowledge do not exist? when there is no proper constitutional or political recognition of Aboriginal sovereignty? when there is no acknowledgement that all of Australia's vast wealth is derived from the illegal appropriation of Aboriginal land, seas and sky?
Non-Aboriginal Australians need a renewed sense of identity in the world beyond the deeds of colonists. It is not just that there is a "whispering in the hearts" of white Australians wanting to end the lie that the British government colonized terra nullius –  a land without people in 1788.  There is a yearning to understand what it means to be born of the materiality of Australia's lands and seas. This overwhelming feeling floods the consciousness of anyone who lives here for any length of time. There is also the need to tell a myriad of stories and cheeky nuances that are not possible while we extend and live the lies of the colonial world of white suits and pith helmets. The theatre needs to be de-segregated. The tyrants and thieves and murderers need to be held to account. The crying needs to begin. The sun needs to rise.
 "Australia" demands its narrative and the people who truly sing and dance the land itself are our first nations Aboriginal peoples. They are the oldest living continuous culture on earth. Beyond all of our attempts to understand this place and to build edifices, parliaments and constitutions, the first nations peoples hold the secret to Australia's future in the world.
This new narrative must be something stronger than law or constitution. It must reconcile strangers and recognise profound cultural differences many of them unreconcilable but wonderfully complementary and potenially allied. The beautiful little girl with blonde hair embraces her adoption by her Aboriginal family as something as important as a passport or marriage certificate or even a family home. She feels new love in her heart. She has new names. She has new dances to learn, new obligations and traditions that run back to the beginning of time itself.
Australia needs to reinvent itself as  Paul Foss' beautiful essay Theatrum Nondum Cognitorum (Unrecognised Theatre) puts it: "The whole of Australia is pure invention. There is no such country, there are no such people."
We need to stand the current discussion of Aboriginal inclusion on its head. The Australian nation and its constitution need to be adopted and included into law by Aboriginal first nations peoples.  The Commonwealth and State colonial constitutions must be amended to their satisfaction. Why were these colony states boundaries created in the first place? How illogical they are? How much better is the map of Aboriginal first nations as the basis for our governmentality?   Why cant we move to a model where first nations boundaries become the way in which we govern ourselves in the future with Aboriginal and non-Aboriginal representation at those levels? Could this be the basis of a true Australian republic?
The Uluru Statement of the heart is but a rudimentary step. That it languishes unacknowledged by our Commonwealth leaders is a shame. It is a sign of how base our politics, that we have not been able to embrace it.
What does it mean for a majority of people in a majority of colonial states of an illegal constitution to approve anything anyway?  In the traditional world there would be no vote of hands. There would be a unanimity of hearts and minds and this would be clear because there would be no dissent. Of all the recent statements and sentiments the Uluru statement has received a degree of consensus amongst the many Aboriginal nations that is significant.
Australia's politicians and statesmen and women ruminate about the formal constitutional recognition of Aboriginal peoples. Maybe we should turn things around and think that Aboriginal nations need to decide whether to adopt our constitution into their law and culture. Maybe then things might change. There are many within the Aboriginal community who are rightly skeptical about the formal recognition of Aboriginal people by the politicians and by a formal national constitutional referendum. Why is it needed? We were always here! We will always be here. They have a profound point.
The Uluru Statement calls for the creation of a "voice" that is recognized through the Australian constitution. To some extent this answers the questions within Aboriginal Australia about why it is necessary to inter-act with the mainstream constitution. A voice is not bound by mainstream politics it is the expression of the first nations that changes and flows with the moods of the people. After the voice is established the work of creating long standing agreements and treaties can begin.
The Uluru Statement describes Aboriginal sovereignty as spiritual consisting of the ancestral tie to the land and "mother nature` which exists through life and death and continues on into the future. The depth of Aboriginal sovereignty goes back longer than any known civilisation on earth. It is un-surpassable and being a part of this spiritual belonging is what needed by us new comers whose backbones are too buried in the earth since 1788. This desire for a deep spirit of belonging is a force more powerful than any nay sayer or sceptic, it binds us and makes us one, and it is something that we need to hold onto in our thinking about the future. The good will of wanting to be spiritually linked to each other and the land creates a kind of immunity from the selfish and narrow debates that have come to dominate our political discussions.
1.     Thanks to B. Ross for ideas and thoughts as ever.
2      I am thinking of the disproved theories of Keith Windschuttle, the devisive journalism of Andrew Bolt and the general tenor of articles and commentary in The Australian and on Sky News.
References
Henry Reynolds, The Whispering in Our Hearts, University of NSW, 2018
Paul Foss,  "Theatrum Nondum Cognitorum" in The Foreign Bodies Papers, Local Consumption Press, 2006
Peter Botsman, Wakuwal, Valentine Press, 2017, http://valentinepress.com.au/?page_id=2836
 "Seeds of Reconciliation" https://garlandmag.com/article/wakuwal/ 
Jane Goodall, "What Stands to Reason" Review of Wakuwal, Sydney Review of Books, https://sydneyreviewofbooks.com/wakuwal-another-science-is-possible/