Fine Lines - Words and Ideas that Mark our Times - Volume One: Legend of the 1980s and 1990s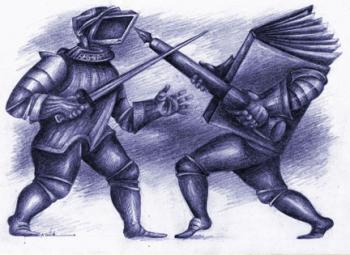 The best words and ideas of the Hawke-Keating era. Illustrated by Kerrie Leishman. 222 pages.
Praise for Fine Lines
"Peter Botsman's cogently culled collection of quotations is an invaluable guide to Australian politics for anyone--anywhere in the world."
Sidney Blumenthal
This book is for people who work with words and ideas. It is a tool for speech-writers, journalists, students, writers and any­one interested in tracking Australian history through the things people say.
In my experience, most printed books of quotations can be frustrat­ing. Quotations are usually organized by subject or author and there is the index at the back of the book. But it is a circuitous route to find just what is needed and, in many collections there are no real references so it is hard to get a historical fix on words and meanings.
Back in 1988 I started to create my own computerised books of words and quotations. The idea was to stymie the pain of the endless search. All key words and subjects were hyper-linked for ease of access and every word in my volume was instantly searchable. In the hustle for speeches and writing I found my own collected quotations very use­ful.
As the years went on my volumes saved me many hours of work and they got more and more comprehensive. I began the practice of noting dates and sources and organizing them in historical volumes. With this online edition I am making the first of these volumes available to a general readership. In pdf form quotations and ideas can be searched instantly and comprehensively.
Words and quotations are also important historical markers and ref­erences. I have sourced most quotations to books, newspaper reports, places, people, dates, times. This means you can go beyond the quotation to the source and explore for yourself. This is exactly what I found myself doing. I often couldn't remember an exact date but I remembered what someone had said. Sayings became my bea­cons of time.
There are some personal communications and hearsay quotations that I have literally noted down on a napkin or picked up on the street or in a corridor. Some of these haven't been sourced to a tangi­ble text or place or time - if you find one that is unsourced, I think you will agree that these were just too good to leave out.
fine lines is updated regularly and I am constantly finding new ideas and quota­tions. I hope you will enjoy and use this volume.
Peter Botsman
December 2006
N.B. Limited edition, perfect bound printed editions are available by order for $30 plus postage, please email or fax your request to the numbers below. However please note that this book has been designed as an online book and not a printed book. The online edition means that we can produce the magnificent colour images of Kerrie Leishman and ensure that they get to you at premium price of under $11 plus GST. It also means that each word in the volume is searchable so you can find what you are looking for instantly. Hard copies of the book are only printed in batches of 100 based on orders so you must wait for each new batch of 100 to be printed. My recommendation is for you to buy the online edition. It is great value for money and a wonderful resource. However if you must have a hard copy send in your order and we will do our best to get it to you in a timely fashion.
Contact details
Peter Botsman 
02 44-65-1665 /
peter@peterbotsman.com>