Family Matters: A Children's Revelation and Revolution from the Northern Territory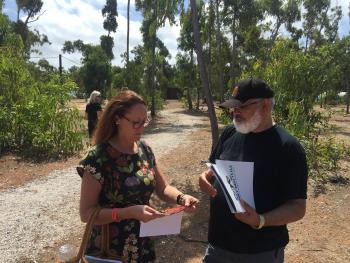 After a harrying 4 Corners expose this week it was a relief to get some positive news from the Northern Territory. NT Labor's policy to create a new Children's Ministry with wide cabinet power and a whole of government approach to children's welfare is a first for Australia. Even better the policy designed over several years is spearheaded by Lynne Walker, a widely loved and respected figure from North East Arnhem land, who has done a solid political apprenticeship in government and opposition.
There have been some miraculous and moving moments at Garma over the years. Yesterday's session on education was one such moment. It began with stories from teachers past, present and possibly future about the way the previously segregated town of Nhulunbuy is coming together more closely with its sister town of Yirrkala around educational goals. It was inspiring to hear how now Yolngu participation at Nhulunbuy high school is approaching 30 per cent and next year, with the completion of the new boarding school, it will rise much higher. But more than this it is clear that Yolngu culture and education is enriching the educational culture of the region and offering something that is unique in the world. It is not too much to imagine families coming to Nhulunbuy so that children can experience the riches of a true Australian bi-cultural education. It is as if the closure of "the monster" -the aluminium refinery at Gove - has yielded and given way to a much richer reward.
But the show stopper of the day was the announcement that Lynne Walker would be Deputy Chief Secretary and Minister for Children if the Gunner Labor Government were to come to power in the Northern Territory on August 27. It may seem given the events of the last week and the revelations of 4 Corners that this was manufactured for the political cycle. In fact Lynne is a true product and facilitator of the educational renaissance in Nhulunbuy and North East Arnhem land which has been slowly emerging over the past decade.
For more download the pdf fil ebelow