On A Clear Day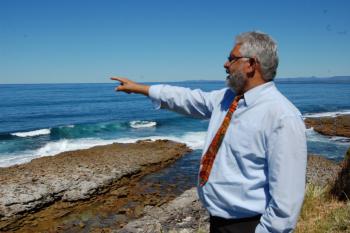 Wreck Bay, The National Congress of Australia's First Peoples, Looking Forward: A Conversation with Gerry Moore
"On a clear day you can see to Bermagui" Gerry Moore said as he looked out from Cemetry Point . a part of his home community of Wreck Bay near Jervis Bay. But it wasn't just the view that was clear so was the discussion which is available for download as an mp3 file along with this newsletter. Newly elected to the board of the National Congress of Australia's First People's Gerry Moore has a very simple, strong and clear vision of the future.
This article and a full uncut mp3 file of the interview were available to download for free for 12 hours from 3pm 21 October 2013 to take advantage of these free offers  you need to become a subscriber to the workingpapers mailing list.
Click on the "Add to Cart" button below to purchase an 11 page written history of Wreck Bay and interview with Gerry Moore and a 45 minute uncut interview with Gerry Moore conducted at Wreck Bay and Jervis Bay on the 16th October 2013.
Members of the Aboriginal and Torres Strait Islander community can obtain a copy of this interview and mp3 free by going to Gerry's website www.gerrymoore.com.au and inquiring about a copy.  ATSI can also email peter@peterbotsman.com