Albo and the Road ahead for Labor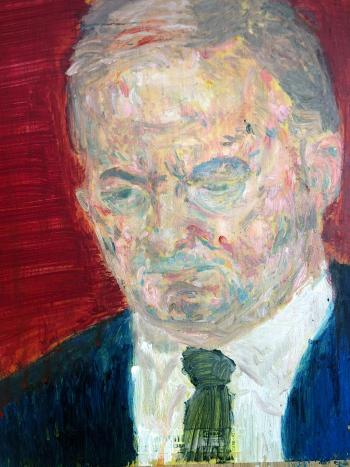 Tom Uren was confident, in all my interactions with him, that his young protégé and apprentice Anthony Albanese would one day lead the Labor Party and go on to become Prime MInister. Tom was a very earthy man who understood the Western suburbs of Sydney intimately. One of his favorite expressions was 'If you have your roots deep in the people you can blow in the breeze'. He saw in Anthony, raised in the Inner Sydney housing commission flats of Camperdown by his single mother, a young person who was deeply connected to the people and the grass roots of his community.
Tom taught Anthony the trade of politics very well. Tom was very proud of the way he made his seat of Reid, (which then included Auburn, Chester Hill, Granville, Lidcombe, Regents Park and Sefton), a Labor stronghold that enabled him a 32 year career in the Federal parliament. Anthony has similarly made his inner Sydney electorate of Grandyler unassailable, despite a formidable coalition of anti-Sydney Airport, green and progressive campaigns against him. A lesser politician would not have survived. He followed many of the principles Tom taught him. One of the parables was the electorate office and team was a family to whom you owed your political life, as well as being an important prism to view the world. 
The prism of the local electorate team enabled Uren to see the qualities of many of his neighbouring politicians including John Howard who grew up in Earlwood, Jack Ferguson and his sons and Paul Keating the ultimate Bankstown boy. Tom described himself as just 'a pick and shovel man'. But he was of course much more than that and many of the great environmental, regional and urban reforms of the Whitlam and Hawke-Keating years emanated from Tom. Most importantly Tom saw how his idealistic idol and the hero of Labor in the 1970s, Jim Cairns flew a sky rocket to the moon and was then cut down by forgetting the fundamental rule of politics, maintain your roots in the people. 
Albanese has learned much more about the world and politics than the lessons of Tom Uren. But these lessons are fundamental to him. This is why "Albo" is a much more important figure for the future Labor Party than Bill Shorten, Tanya Plibersek or even Penny Wong. He is also a ladder for the younger potential leaders of the party. He is the most popular leader with the Labor rank and file membership, I have no doubt that if Albanese was leader, Labor would have defeated the Liberal National Party under Scott Morrison, not just because he has an ability to distill things in a way that Australians like and understand, but also because he would have not allowed Labor policy to be a big target for Liberal negative campaigning, He certainly would have understood the primacy of Queensland grass roots issues, 
There is one proviso. Albo has to get himself in shape. Politics is a very cruel profession. He has had a hard couple of years. Regardless, at present, he is by far the best bet Labor has for leader.
Not everything is just about changing leader. The danger for Labor is that its insularity has become a form of political elitism. The tragedy of the 2019 electoral loss to Scott Morrison is that the Federal Labor party had the most talented and experienced leadership team and alternative ministry in its history. It certainly had the most talented woman's team of all time. But in shades of Hillary Clinton's loss to Donald Trump, Labor chose to ignore the sullied voices of the electorate who are more worried about jobs, prices and their economic prospects than they were about big issues like climate change or women's rights. 
The good news for Labor is that it retains its team in Opposition and the defeat may be a good thing for everyone in the long term. Unlike in the US, it is not necessary to re-build an entire Presidential campaign and team.  
One thing Labor needs to do is open up its leadership and pre-selection process to popular votes and scrutiny. There is too much inner power and insularity. Victorian Labor seems to understand this better than any other Labor sphere. The Centre Right 'born to rule' faction has given way to a politics that it is more linked to community than Labor numbers. Shorten's faction of Labor has always been more comfortable talking to the big end of town than grappling with the dirty and contradictory issues of communities, workers and unemployment.This needs to change and it would under Albo.  
Albo deserves his chance, he put his own interests aside even when he was far more popular within the party than Shorten. He won the popular party vote against Shorten and bit his tongue when his parliamentary colleagues used their factional allegiances to give Shorten the leaders job. Like Albo, everyone within the Labour Movement, including this author, gave Bill Shorten and his Centre Right faction the benefit of the doubt. 
Perhaps the greatest lesson of the 2019 campaign is Oppositions can win with strong policy platforms provided there is a dialogue with the electorate not just 'we know best". Within the Labour movement we ignored the smugness and arrogance of the leadership group including Tanya Plibersek telling us what was good for us. But the broader electorate clearly turned off.  The truth is that you have to argue about why your policy agenda is important with direct political adversaries and people with opposing views- not just dismiss them.  
The party hoped that there might be another re-run of the Hawke-Keating era but the fact is, even then, the Centre Right were more about being rigging ballots and numbers than intellectual substance. It was the individual character and ability of Hawke and Keating and several of their colleagues more than the factional grouping that was unique. Keating, Brereton, Richardson, Carr and Kelty were a potent combination of street fighters with brains and vision. What the younger group including Bill Shorten inherited was the idea that they were the natural rulers of the party. In fact, this was a group more adept in a world of spin, public relations and internal Labor politics than in the community. Added to this the world was changing big time, partly as a result of Labor's deregulatory reforms. 
Some of the policies advocated by Shorten, such as the restoration of penalty rates and lifting the rate of employment benefits have all the flavour of another era in Australian industrial relations without any of the hard trade-offs. The union movement has become more made up of graduates who have never really worked in manual trades and the typical union member is now a professional. The idea that you can just elect a Labor government who will just give you your entitlements is a dangerous concept. Hawke's Accords were a unique way of bringing everyone to the table to work out trade-offs and costs and benefits across industry and unions. 
As Labor's dismal showing in Queensland indicates, the days of a one-size fits all arbitration commission-like policy, and the assumption that "workers" will be behind you, are gone. We now live in a divided world of small contractors and those on welfare. Even within hard core Labor strongholds there is genuine resentment against those who are on government benefits and who do not do the hard yards of extremely long unregulated hours by sub-contractors and small businesses. In fact, the union worker of yesteryear is now likely to be a small sub-contractor adept at accounting and using the tax system ala Rich Dad Poor Dad. Big government fixes like those promised by Labor are viewed with great suspicion. Moreover workers have become adept themselves at using their investments including negative gearing and dividend imputation to consolidate their long term savings. 
What Queensland workers from Noosa Heads to Cairns clearly wanted was long term employment contracts with private mining companies like Adani or their equivalent in their communities.  In the past this was the norm and workers and unions could afford to contest corporate vested interests. In the mining depressed regions this is no longer the case. The irony in this context is that Labor blames the Palmer United Party and Pauline Hanson for its woes, but in many ways both are creatures of the new expectations and insecurities of the new world of work. Palmer was blamed by Labor for the failure of its policies but obviously many in North and Central Queensland see his ability to create work as important and do not blame him for the failure of several of his own enterprises such as Queensland Nikel and the Palmer Coolum resort job loss debacles. But why Labor did not take Palmer on directly and why Shorten simply shrugged him off represents a failure to understand the new psychology of the workplace and shows how out of touch Canberra based politicians are from what is literally the coal face.  
There is a lot more to write about these issues but the fact Labor did not understand the 'strangers in their own electorates' says much about Labor's highly talented but out of touch policy elites. Albo is the only one in Labor who can link policy with a dialogue that is aimed at the grass roots. What is most important now is that Labor goes back to Queensland to engage with those that have voted against them. People may have put their faith in Clive Palmer, Pauline Hanson and Scott Morrison but these individuals have no long-term answers or solutions. Ultimately it is only a reforming Federal Labor government that can provide the alternative infrastructure and industry investments that will provide employment for the long term. If Albo is elected leader he needs to go back to the Queensland electorates that have turned their backs on Labor and say "we hear you, next time will be different". 
Opposite: "Albo" oil on plywood laminate melamine & veneer, Declan Moore, 2019