Aboriginal Employment 2013: Imperatives and Ideas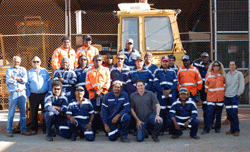 The Forrest Inquiry into Aboriginal Employment is due in December. This paper sets out the challenge.
Release 9am 11/11/2013 Lest we Forget
There are only a precious few regions of Australia where Aboriginal employment is comparable to non-Indigenous employment. In almost every region, Australia Aboriginal unemployment is nearly three times the rate of non-Indigenous unemployment. The employment participation rate namely the proportion of the labor force in work is on average 20-30 percent lower and the ratio of the labor force to those over 15 years is thirty to forty percent lower.
This paper publishes data for 137 regions courtesy of the Centre for Employment and Equity at the University of Newcastle. It argues that above all public and private sector investment needs to centre on Aboriginal owned and managed enterprises and creativity in regional, remote and local urban areas.
Paper is free to workingpapers subscribers for 8 hours from its release. Aboriginal and Torres Strait Islanders may also obtain a free copy by emailing peter@peterbotsman.com
Download by clicking the add to cart link below.